Urgent growth needed in long duration storage as well as a clear roadmap to zero carbon
Statkraft's Senior Grid Services Engineer Tom Birney gives the keynote sponsor address at the Energy Storage Ireland (ESI) annual conference in Dublin on 26 May.
Speaking at the second annual ESI conference, Tom Birney raised the need for urgent growth in long duration storage, if our renewable energy targets are to be reached.
Statkraft is now optimising over 236MW of operational battery systems across the island of Ireland and developed, constructed and is now operating the first utility-scale battery projects in Ireland – Kilathmoy and Kelwin-2.
Birney outlined a rapidly evolving space of battery storage and said the DS3 Programme contributed to the very successful delivery of over 450MW of short duration storage in the last two years.
The storage industry is now rapidly maturing with a growing interest and need for longer duration storage, with estimates of 2GW of storage being deployed by 2030.
However, market incentives and certainty are insufficient to encourage the much-needed investment in long duration storage.
During the address, Birney challenged Minister for Environment Eamon Ryan to establish a programme of work, with milestone targets, to achieve a 'zero-carbon model' for system services and said previous reports have found that this could reduce all-island power sector emissions by almost 2 million tonnes of carbon (ESI/Baringa).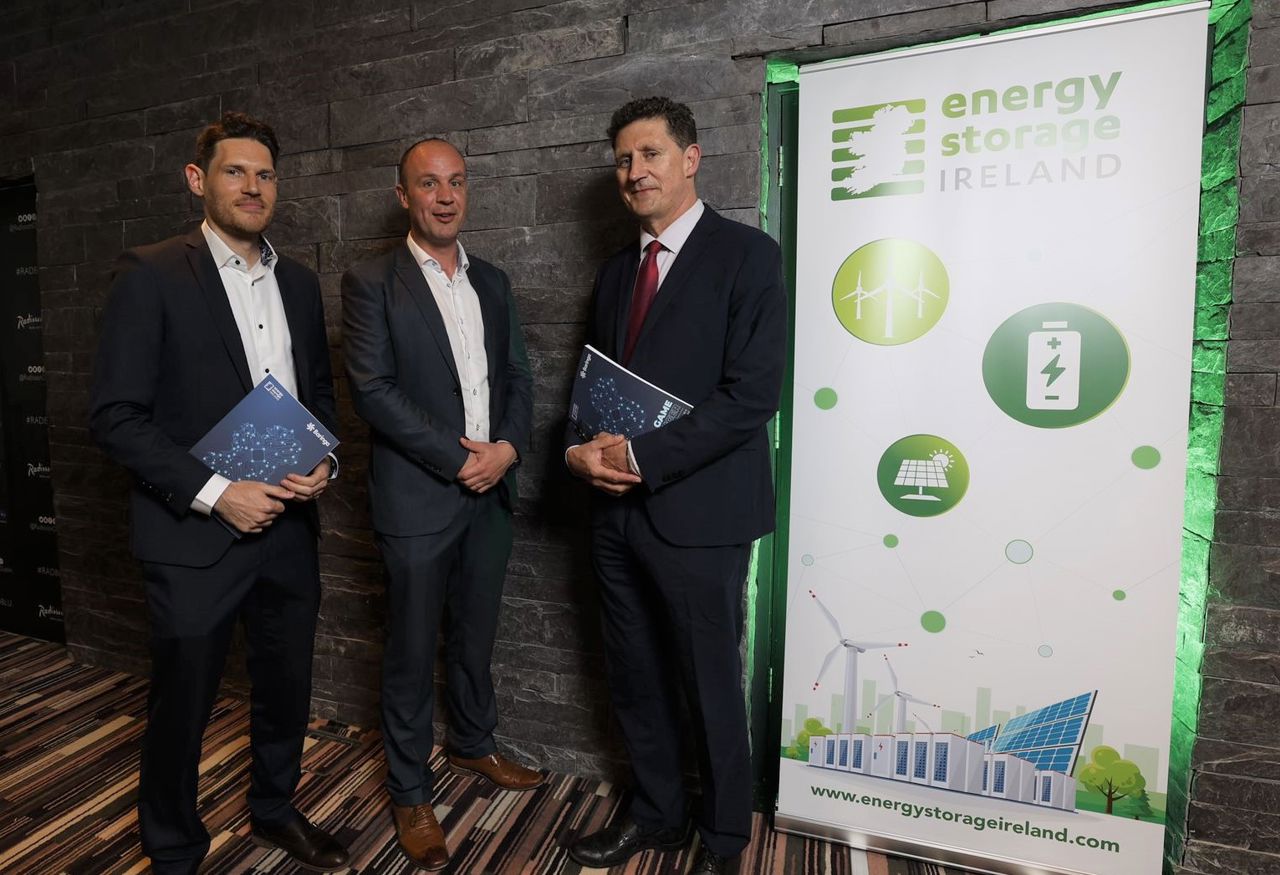 Tom Birney and Donal O'Sullivan from Statkraft with Minister Eamon Ryan at ESI's annual conference. Photos: Conor McCabe
Some of the key challenges identified included:
Market certainty to drive investment in long-duration storage
Reduced risk for developers, driven by policy changes i.e in planning and grid
Battery capital expenditure due to a major surge in commodity prices
Protecting existing investments in order to maintain confidence
Birney concluded by saying that strategic, coordinated action is needed now.
A Government driven Energy Storage Strategy is required which will address the key barriers to battery storage, incentivise and facilitate longer-duration storage and resolve the ongoing market integration issues.