Ongoing energy crisis pushes climate change down agenda
Cost of living impact of global warming is greatest public fear according to new survey.
The impact of the war in Ukraine on the global energy market could result in climate change targets being forgotten, according to the Irish public. Moreover, the most significant concern in relation to global warming is its impact on our cost of living – that's according to a new survey conducted for Europe's largest generator of renewable energy, Statkraft.
The survey, which sought the views of 2,000 Irish residents, found that 66% of Irish people are concerned that climate change targets will be forgotten. An overwhelming majority of those surveyed (83%) also believe that Ireland should be focused on becoming more independent when it comes to energy sources, with less reliance on imported fuels to serve our needs.
There is also a high level of concern regarding future energy prices and the ability of savings to cover fuel costs for the winter ahead with 86% of those surveyed declaring they are "scared" at what future bills could amount to and 68% stating they are worried about their ability to pay for those bills towards year end when temperatures drop.
While 80% of respondents admit to being concerned at the threat of climate change on them and their families, it is an increase in the cost of living caused by climate change (49%) which is the greatest worry. This is followed closely (48%) by the risk of environmental consequences such as flooding, wildfires, heatwaves and sea levels rising.
57% of respondents believe that bills will go up if they move to renewable energy sources while a resounding 86% believe that we should have started investing in renewable and green energy solutions a long time ago.
MD of Statkraft Ireland, Kevin O'Donovan said: "This is undoubtedly a challenging time for the energy industry and for consumers. Prices are high and global events have caused major uncertainty. We are in the middle of an energy crisis, but the climate crisis hasn't gone away either - the effect of which we have seen in the extreme temperatures being experienced across Europe this summer."
"All of this combined makes an even stronger case for delivering more renewable energy onto our national grid, as it leads to more affordability and a cleaner, more secure energy system."
"While the price of renewable energy has risen in recent years, it is still much lower than the price of fossil fuels. Wind Energy Ireland (WEI) have consistently proven this in their monthly wind report, showing that the days with the most wind energy drives down the average price of electricity. This, combined with an accelerated solar programme to take advantage of days with less wind, is the most effective of delivering more clean energy on to our grid.
The best and most effective way of delivering affordable energy prices for Irish consumers is to deliver more wind and solar projects. At Statkraft, we remain unequivocally committed to helping this country reach its zero carbon targets." he concluded.
Statkraft entered the Irish market in 2018 and since then has more than doubled its workforce and tripled its development portfolio. It develops, owns, and operates renewable energy projects across the technologies of onshore wind, offshore wind, solar, battery storage and grid services.  

Full results of the European-wide report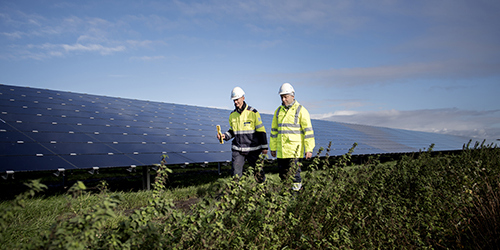 Energy Perception Report
18,000 people. Nine countries. Statkraft commissioned research in June 2022 to find out what people in Europe are currently thinking, amongst other topics, about renewable energy, climate change and ...
Read more