Fundamental changes needed in the planning system
The swift and effective development of renewables in Ireland is absolutely central to decarbonising our energy system. But it is only achievable with a robust and adequately resourced planning system, writes Claire Walsh, Senior Project Manager with Statkraft.
Statkraft is Europe's largest generator of renewable energy and is now a leading player in Ireland, having tripled our development portfolio and doubled our workforce since we entered the Irish market in 2018.
In Ireland, Statkraft develops, owns and operates renewable energy and is at the forefront of producing a diverse range of renewable technologies, including onshore wind, solar, offshore wind, battery storage and grid services.
With both a climate and energy crisis threatening our world and our very existence, it is now more important than ever to build and invest in renewable energy projects.
Ireland has been set with a challenging target to achieve 80% renewable electricity by 2030 which includes 8.2GW of onshore wind energy (we currently have 4.5GW which is operational), 5GW of offshore wind and 1.5-2.5GW of solar projects.
The swift and effective development of renewables in Ireland is absolutely central to decarbonising our energy system, our economy and our society. But this is only achievable with a robust, effective, fair, transparent and adequately resourced planning system.
A huge challenge in Ireland is the planning process. In Statkraft and I myself are seeing it in our work on a daily basis and we hear it regularly from every other company involved in renewables in Ireland.
The planning system needs to keep pace with the scale of renewable energy development that is needed to meet our targets.
Yet, at a time when renewable infrastructure must be accelerated, we find ourselves incorporating into development timelines the expectation that every project will be appealed, that every project will be the target of an application to take a Judicial Review – which will inevitably be granted – and that every project will end up being the subject of lengthy and expensive legal proceedings.
Statkraft welcomes the Planning Reform Programme which is set to bring about fundamental improvements to our planning laws.
Our understanding is that the Planning Reform Programme will be enacted by year end, but it is vital that this review is completed as quickly as possible and we urge the Minister to consider bringing forward this date.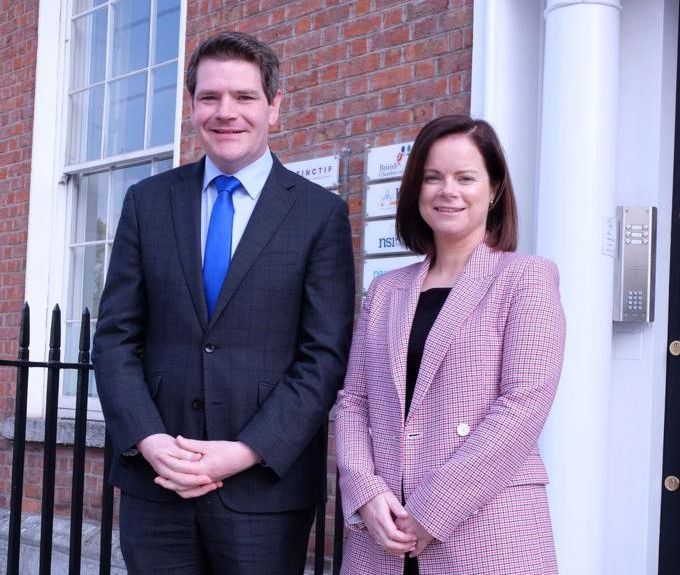 Claire with Minister Peter Burke at the BICC event in Dublin.
A few key things need to happen – statutory decision time periods need to be introduced to remove the uncertainty around timeframes and provide developers with greater clarity on timeframes in advance of our 2030 targets, fundamental reform of the JR system is required, a Climate Action Team in An Bord Pleanála and other planning bodies needs to be set up and proper resourcing of State agencies like the National Parks and Wildlife Services needs to be provided.
As well as this, we agree with the recent call from Wind Energy Ireland for Minister O'Brien to direct An Bord Pleanála to prioritise certain SID applications or appeals that are of strategic, economic or social importance to the State. I am interested to hear Minister Burke's thoughts on the legislative powers that are available to do this.
Currently, it is a statutory objective of An Bord Pleanála to make decisions on appeal cases and SID applications within 18 weeks. Recent research undertaken by Wind Energy Ireland and MKO on onshore wind energy decisions made by An Bord Pleanála since 2020 show that appeal decisions are taking on average 60 weeks and SID decisions are taking on average 69 weeks. Both of these timelines are well in excess of 3 times the statutory objective period.
I, myself have experience of submitting an SID application to ABP in March of 2021 and just on Friday received an FI request 13 months later. These timelines combined with the timelines associated with the JR process are leading to significant delays and adding several years to the development timeline for wind farms in Ireland.
There was a very welcome commitment in the Programme for Government 2020 to establish a dedicated Planning & Environmental Law Court as a separate division of the High Court - managed by specialist judges.
The establishment of such a court is a significant development in the Irish Planning and Environmental Law System. We urge the Minister to prioritise the delivery of this commitment and to indicate a timeline of when the Court will be in operation.
A quicker JR system on its own will not accelerate the consenting process. Sufficient resources are key, in particular within ABP, so they are fully resourced to assess the applications that are lodged and to allow applications to move through the planning process as efficiently as possible.
It's a very exciting time in the development of offshore renewable energy. The government has an ambitious target of 5GW of offshore wind by 2030 and to achieve this MARA needs to be set up as soon as possible and more resources and personnel allocated to An Bord Pleanala for quicker processing of offshore applications.
A design envelope approach in assessing the applications for offshore renewable energy is also imperative for the delivery of these projects.
It is now beyond urgent that we see these fundamental changes in the planning system. While we welcome the Minister's presence here today, and his clear commitment to this issue, we hope this is not simply a discussion, but a starting point for real changes. The stakes are too high not to act now.
Claire Walsh, Senior Project Manager with Statkraft, made the above comments in a speech at a British Irish Chamber of Commerce event on 'Modernising the Planning System' with Minister Peter Burke.