An exercise in patience
Therese Svensen, who is currently on rotation in Ireland as part of the Statkraft Trainee Programme, was at Taghart Wind Farm to watch one of the first blades being lifted onto a turbine. Here, she describes how it went.
The construction of a wind turbine is an exercise in patience.
You can't do a lifting operation of a wind turbine's top tower or a 55m long rotor blade when the wind is above 9 metres per second. And, logically enough, wind turbines are usually located places where there is high probability for wind. This is a very reasonable and obvious requirement (and safety always comes first in Statkraft), but as an over eager trainee I must admit I was getting impatient!
At last, we had some good news – there was good weather forecast! Flexible contractors were able to turn around the logistics quickly, do a shorter day the Friday before, to work on the Saturday and make a plan to lift the top tower and nacelle. This was the first of the main lifting operations on Taghart Wind Farm project, and it was successfully and safely conducted.
The following Monday, the site manager from Statkraft, Jan Henriksen, and I were positively surprised during our daily round – which is when we get updated on the project's progress and see what activity is being planned for the day ahead. The team had been so efficient that the hub was already in mid-air by the time we arrived.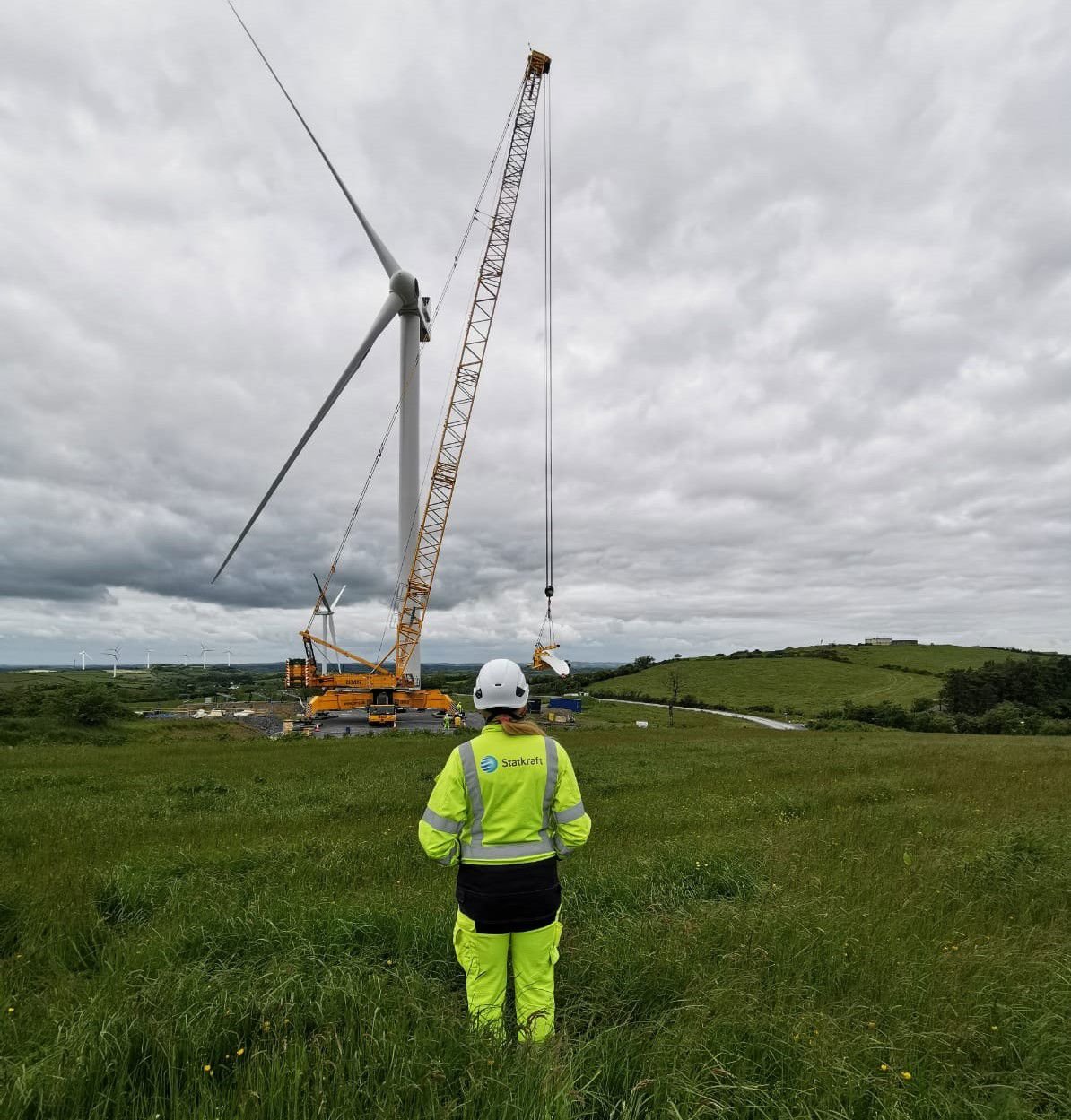 Therese watching the action at Taghart Wind Farm. Photo: Statkraft
A couple of days later, the team was ready for the grand finale - the blade lifts. I got the great privilege to see the entire process of all three blades being lifted and mounted. Truly, it was like watching a real-life action movie. The impressive part is not the lift itself - but seeing the installation team and the crane operators communicating and working together to perform the operation.
I feel very lucky to have witnessed a project of this scale and effort. The level of teamwork I was lucky enough to witness that day was amazing.
Thank you to the entire team for such a memorable experience!