Statkraft Ireland - a Great Place to Work!
The Statkraft office in Ireland, based in Cork, has officially been certified as a Great Place to Work.
The Great Place to Work Programme measures organisations through a combination of an Employee Survey and a Cultural Audit.
Statkraft received the results of their employee survey across their 71 employees and scored a 90% positivity rate overall across the five pillars of the Great Place to Work programme which means it is officially certified as a Great Place to Work!
The pillars of credibility, respect and fairness measure employees' trust in management and the pillars of pride and camaraderie measure employees' feelings about their jobs and colleagues.
Some of the results are broken down into the following:
Credibility (95%)
Respect (88%)
Pride (91%)
Camaraderie (93%)
Fairness (88%)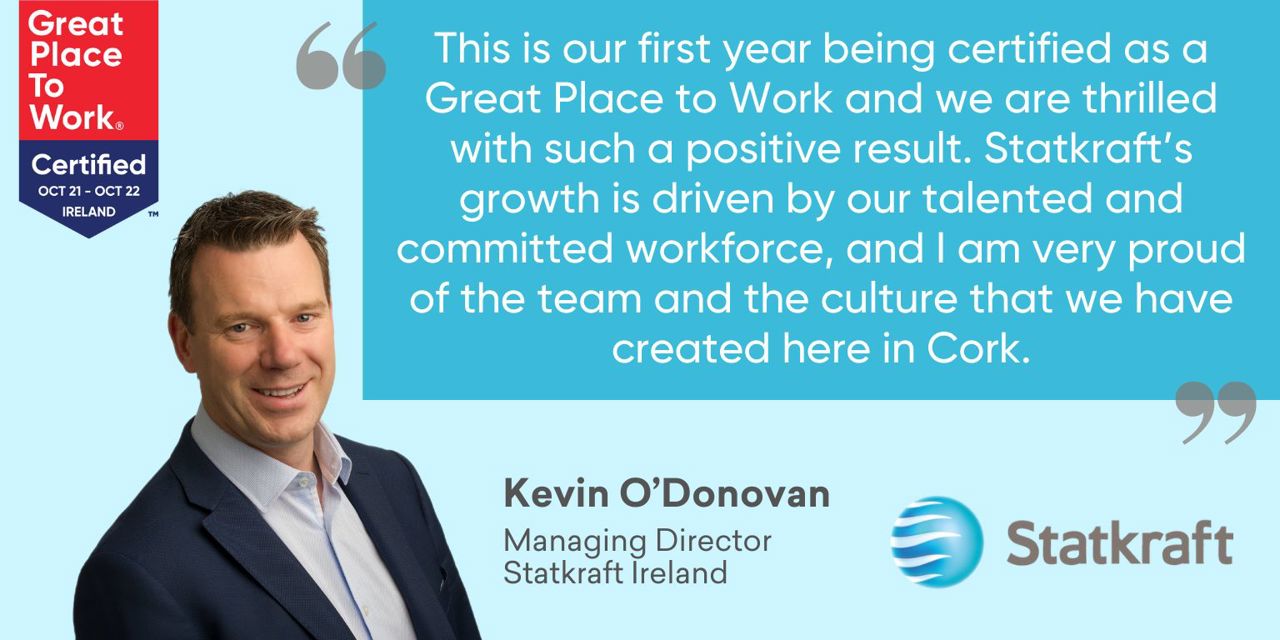 Speaking about the results, Kevin O'Donovan, Managing Director of Statkraft Ireland said, "This is our first year being certified as a Great Place to Work and we are thrilled with such a positive result. Statkraft's growth is driven by our talented and committed workforce, and I am very proud of the team and the culture that we have created here in Cork."
The next step on the process is to find out if the company is one of Ireland's Best Small workplaces. This will be determined by both the survey results and the culture audit - the results of which will be known next year.

Read more
Why Statkraft?
Everyone working in Statkraft is united by a common goal: a burning desire to contribute to a renewable future. To lead the transition from fossil to clean energy, we need people who can think in new...
Read more
Job vacancies
Renewable energy is a cause that unites us all. And we make it commercial. We create value by moving organisations to renewable energy sources. It's good for the planet and good for business – and...
Read more